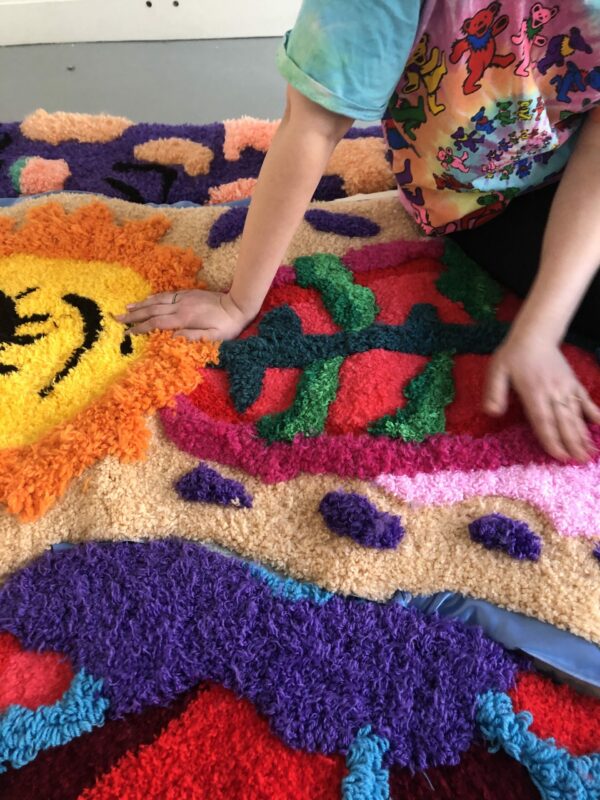 Let me be your anchor
In my project I have designed a collection of different stress-relief products, which are meant to act as an anchor. To help to be in the present, But also with relaxation in moments of stress and everyday anxiety.
I have explored how our feel and textile tactility along with a ritual can help in these situations.
But also give greater value to the decor we choose to have in our homes, and serve as a reminder to take a moment for yourself a little more often.
With different textiles and yarn qualities as materials, and tufting as a tool and a ritual in itself, I have built up different tactile surfaces. that later on Resulted in 4 different carpet mattresses, a mantra quilt, that together with a voice-guided ritual and a physical manual becomes a whole.
To be used together or individually.
The design of the different parts comes from a text that talks about finding one's inner self written by (Jamie Sams, Earth medicine,1994) and a desire to invite you to a colorful, disarming alternative world. Where it's okay to be and feel, exactly as you are and do, cuz  the world we live in can sometimes feel extremely square, monochrome with far too many demands.
My method for creating the ritual and deciding how the different parts are used has been to test my ideas together with 3 different people with different relations to everyday anxiety, worry and stress.
On several occasions and document their experiences of what works and what does not and what needs to be added or removed. Both concrete things and abstract emotions. I have been inspired by mindfulness, breathing exercises, the gym in the second grade, all the different yoga classes over the years, carpets and floors I lay on as a teenager and the importance of ritual in large and small.